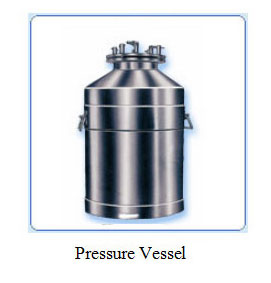 Pressure Vessel
Italco Pharma is engaged in the manufacture of Pressure Vessel
Pressure Vessel is a padlocked drum which helps to control liquids or gases considerably at higher or lower pressure than the surrounding pressure. Examples include autoclaves, custom designed laboratory vessels, glassware, compressed gas cylinders, vacuum chambers, and compressors (including refrigeration).
Function of water pressure vessel :
The use of Pressure vessels is highly seen in domestic waterworks applications. The primary function of Pressure vessels is to maintain and balance a continuous pressure in the water distribution system. These Pressure vessels also perform the role as water tanks and prevents the pump from recurrent switching, which may cause a rapid wear.
Types of Pressure vessel :
There are various types of Pressure Vessels like storage tanks, process vessels, boilers and heat exchangers that acts according to according to their function. The Pressure Vessel may be in cylindrical or spherical shape. The Cylindrical vessels are more familiar, and their heads may be ellipsoidal, hemispherical, or tori spherical.

Sterile Pressure Vessel :
Made out of AISI SS 316 x 16 Swg.
Complete with ring cover, ring nuts & silicon gasket.
Bent outlet nozzle shaft is fitted with SS pipe to draw out all the fluid from the vessel.
Inlet nozzles are provided for allowing pressurized air.
The vessel shaft is fitted with one safety valve and two falling down handles.
Its round in shape at the top & argon arc welded with smooth finshed corners and highly mirror polished from inside & outside.
Available Capacity: 50 Ltr. to 200 Ltr.