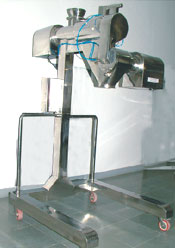 Turbo sifter
Italco Pharma is engaged in the manufacture of Turbo Sifter
Turbo Sifter is used for sifting all the powder inputs before mixing to extraneous impurities.
Salient Features :
It is a very high speed machine.
It is Portable, Compact and has a low energy consumption.
Feed & Product Discharge is continuous and has dust tight transfer arrangement of sieved product to next process equipment.
Range of Screen Sizes available 4- 300 mesh.
Low maintenance cost.
Contact Parts : SS 316.
Precise Design of Beater & Lead Screw assembly ensures trouble free & efficient working.
Extra Features:
1) PLC Operation
2) Variable Frequency Drive